How To Choose The Right Work At The Right Time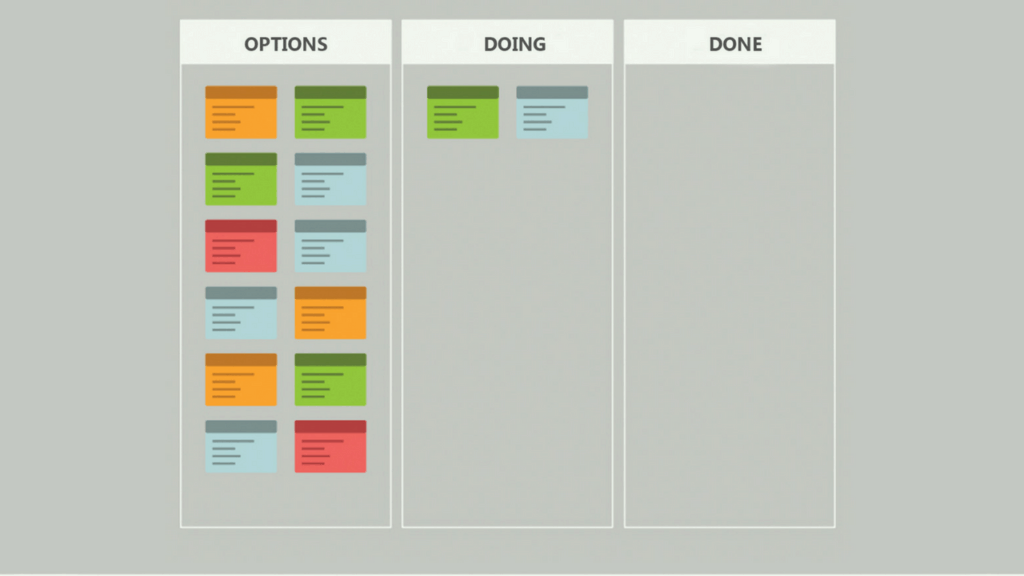 Last week's podcast talked about the tools and habits needed to never forget.
I described my "discoveries" of calendaring, journaling and using to-do lists.
The habit of capturing my:
when and where in my calendar
insights and reference material in a digital notebook
actions in my to-do list manager
allowed me to overcome my chronic forgetfulness.
The 'never forget system' made me more competent. With more competence came more responsibility.
When Your Responsibilities Outgrow Your To-Do Lists
The extra responsibility meant my life started to become more complicated. To deal with the complexity, I created a few more lists in Trello.
One list was for 'Notes/Ideas.'
Potential Work | Projects | To-Dos
I created the 'Notes/Ideas' list because I needed to start prioritizing my time. The list lived on the left-hand side of Trello. I considered these cards potential actions. I'd go through these potential actions every few days to see if they were worth turning into a project or a to-do.
I also started to rely on more people to get things done. So I created a 'Waiting For' list.*
Potential Work | Projects | To-Dos | Waiting For
My 'Projects' list started to become obnoxiously long. So I created a list called 'Future Projects' that I hid from view on another Trello board so I wouldn't be distracted by it.
I got so into this productivity thing, I joined a team that taught people how to be more productive with online courses, blogs, and podcasts.
The small team organized their work using the Agile method. I took parts of what I learned from the team productivity board and added it to my personal productivity board.
I created an 'In Progress' list and a 'Done' list. The 'In Progress' helped me finish work faster by limiting my work in progress (called WIP for short). The 'Done' pile helped me reflect on the work I had done that week.
Potential Work | Projects | To-Dos | In Progress | Waiting For | Done
Work moved from left to right. With Trello + Calendar + Evernote, I rarely forgot anything. This didn't mean I got everything done. I just didn't forget about what needed to be completed.
Then things got even more complicated.
My Weird Dream
My dream is to become the Oprah of small business productivity.
One of the things Oprah does is bring powerful ideas to the public. Oprah was the reason I started meditating. She brought that idea to my mom who shared it with me.
I share ideas through a weekly podcast. The podcast takes quite a few steps from beginning to published episode.
I have to:
reach out to the guests
book guest
research the topic
record the interview
edit the audio
write the show notes
upload the audio
create the images
share the episode on social media
If I created a card for every step of every episode I was working on, my personal Trello board would become too cluttered to be useful.
So I created a new Trello board with lists to represent all those steps.
I was doing most of the steps at first. After a few episodes, I started using an editor (my fiancée Nikida!) and graphics/social media person (my virtual assistant Debbie).
With Trello, all three of us know where we are in the process. It's allowed our small team to go 6 months without missing an episode of 
Able Business Radio
.
The Podcast Is An Area of Responsibility
I linked the podcast Trello board to my main personal board. The board is linked via a card that says Podcast. The Podcast card lives in a recently created list called 'Areas.'
I "discovered" Kanban workflow.
Seeing the whole picture of my work in one place gave me awareness. And that awareness gave me choice. The choice to pull in the right work at the right time.
Rather than typing it all out, I thought I'd make a video to show you how my current system works.
Sneak Peek at my personal Kanban System
Want some help pulling in the right work at the right time?
You can join me and 15 other entrepreneurs in an exclusive productivity training this September:
You'll learn the tools, skills and habits need to create and maintain your own Kanban system.
The class is over half full at the moment. Join now before it's too late!
Zachary "doing the right work" Sexton
* The 'Waiting For' list came from David Allen's book Getting Things Done.