How To Review Your Year w/ Mike Vardy – ABR046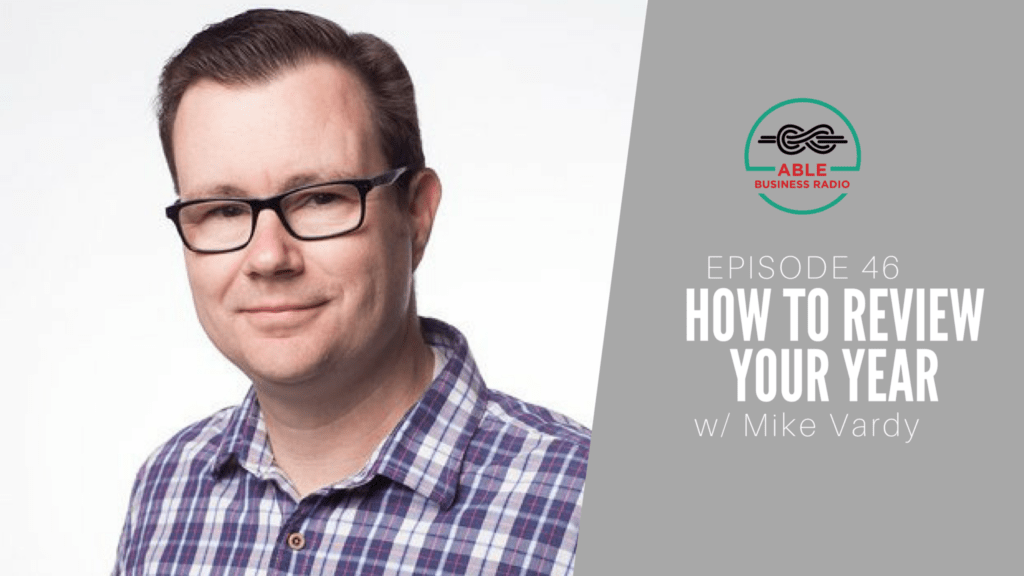 Learning from past actions is one of the most effective ways to make improvements to your personal and business productivity.
Today productivity strategist Mike Vardy is on the podcast to give you a simple game plan to review your year.
By listening, you'll get some fun strategies to help you:
celebrate your successes
learn from your mistakes
move forward with more purpose
Enjoy!
Podcast: Play in new window | Download (Duration: 52:39 — 49.1MB) | Embed
Subscribe: Apple Podcasts | More
In this episode we cover:
How to use your calendar to kick-start your annual review.
Why breaking your annual review into 4 separate 'seasonal' journaling sessions will give you the most accurate snapshot of the year.
Examples of quantitative and qualitative data you can take from your past to help you become more effective in the future.
Vardy Quotables:
"We don't tend to look back enough when we are trying to move forward."
"The holiday season is like being on a plane ride for two weeks. You've got fewer expectations at work. You can use that extra time to reflect and plan."
"Productivity is about intention AND attention."
"Look back at the minutes to make better moments."
"There is no stupid part of a system if it works."
"The best app you can focus on is the app within."
"Frameworks foster freedom."
Quotes Mentioned:
"Pain + Reflection = Progress" – Ray Dalio
"Mistakes are opportunities for improvement." – Sam Carpenter
"In preparing for battle, I have always found that plans are useless, but planning is indispensable." – Dwight Eisenhower
Links and Resources Mentioned:
Confirmation Bias – the tendency to search for, interpret, favor, and recall information in a way that confirms one's preexisting beliefs or hypotheses.
The F-ing Meeting to talk about food, finances and family.
Connect with Zack and Mike:
Subscribe to the podcast on iTunes, Stitcher, Overcast, PocketCast or your favorite podcast player. It's easy, you'll get new episodes automatically, and it also helps the show gain exposure.
The shownotes can be found at zacharysexton.com/46
Podcast: Play in new window | Download (Duration: 52:39 — 49.1MB) | Embed
Subscribe: Apple Podcasts | More