Mastering Online Meetings w/ Lisette Sutherland – ABR039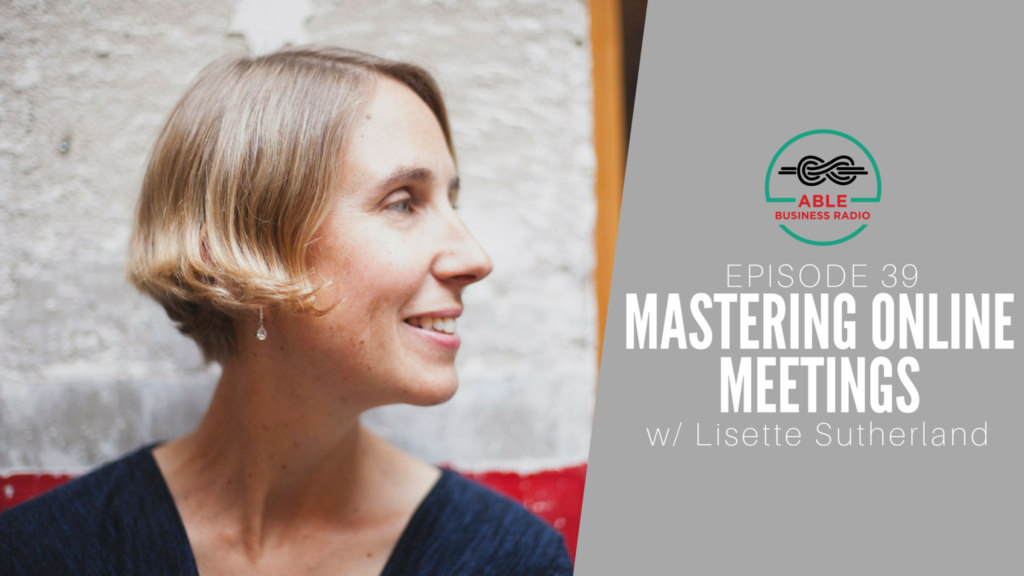 Podcast: Play in new window | Download (Duration: 46:05 — 41.6MB) | Embed
Subscribe: Apple Podcasts | More
Lisette Sutherland helps people work from anywhere online. She came on the podcast to talk about some of the challenges and opportunities of working in virtual teams.
In this episode we cover:
Why you should invest in rocking internet and good headphones.
The best way to start every meeting (especially for introverts).
When you should turn the video on in virtual meetings. (Hint: Always)
The benefit of recording ALL of your team's meetings.
How to use post-it notes to keep people engaged.
When to put ideas into a virtual parking lot.
How to make all meetings optional.
Where to build personal time into the meeting.
Quotables:
"If you are spending the first 10 minutes getting the tech set up [for an online meeting] you are doing something wrong."
"Nobody wants to come to your webinar."
Links and resources mention:
Productive Book and Tool
Free Live Training
Webinar Date: Thursday, November, 2 2017
Webinar Time: 6:00 pm EST
Webinar Title: 4 Simple Tips To End Overwhelm and Beat Burnout
Webinar Registration Link: zacharysexton.com/trello-training
Connect with Zack and Lisette:
Subscribe to the podcast on iTunes, Stitcher, Overcast, PocketCast or your favorite podcast player. It's easy, you'll get new episodes automatically, and it also helps the show gain exposure.
The shownotes can be found at zacharysexton.com/39
Podcast: Play in new window | Download (Duration: 46:05 — 41.6MB) | Embed
Subscribe: Apple Podcasts | More