Generate Breakthrough Opportunities With Your Network w/ Patrick Ewers – ABR051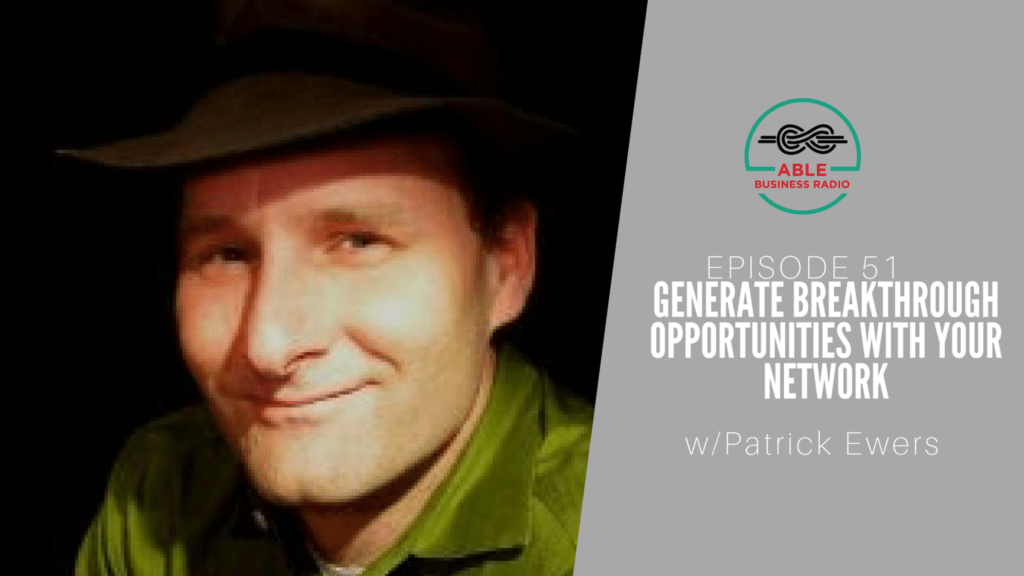 Does a majority of your new business come from referrals? Do you often wish you had a bit more control over when and where your next client will come from?
Then today's show is for you.
My guest, Patrick Ewers, is Silicon Valley's top relationship management expert. Patrick and his team at Mind Maven train business leaders to reach their full potential by ensuring they hear about more of the right opportunities.
Startup founders hire him to uncover venture funds or their next big hire. You and I can use his actionable insights generate more of the opportunities we want in our business.
(Hint: More referrals!)
Podcast: Play in new window | Download (Duration: 40:33 — 23.4MB) | Embed
Subscribe: Apple Podcasts | More
Patrick's opportunity finding tactics are simple, effective and easy to implement.
In this episode we cover:
The 5 best emails to send when you don't know what to say.
How to make sure every interaction you have with your network is meaningful, relevant and valuable.
Why it's important to walk into every meeting knowing how you might help.
The massive benefits that come from creating positive mico-experiences.
The 'one email a day habit' that will generate more breakthrough opportunities.
How timing and mindshare lead to opportunities. (But you can only control mindshare, that is, the ability of people to think of you when an opportunity arises.)
Quotables:
"The quality of your life is directly proportional to the quality of your relationships."
"If you want to make a friend ask a favor." – Benjamin Franklin
"Don't ask people if they need help. Offer help when you see opportunities."
"Professional challenges change every 6 months. Passions never die."
"Making introductions is easy to suggest but hard to implement."
"Positive Alacrity is the skill of creating micro-experiences that cause an emotional uplifting in others."
"We get the best opportunities from people we know and trust. That's just a fact in my view."
"Referrals are a process. The better we understand that process the better we can manipulate it."
"Never, ever say, "How can I help you?" It's the worst thing you can do for a relationship."
"Change is a skill. You need to invest in improving it if you want to reach your full potential."
The Forgetting Curve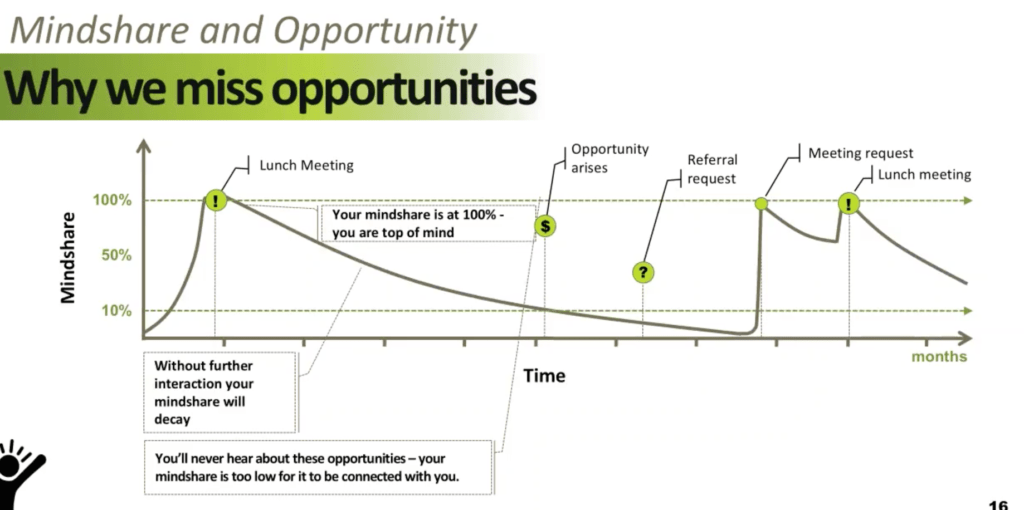 Img Source: Mindmaven
Links and resources mention:
Connect with Zack and Patrick:
Subscribe to the podcast on iTunes, Stitcher, Overcast, PocketCast or your favorite podcast player. It's easy, you'll get new episodes automatically, and it also helps the show gain exposure.
The shownotes (and Contactually tour mentioned in the outro) can be found at zacharysexton.com/51
Podcast: Play in new window | Download (Duration: 40:33 — 23.4MB) | Embed
Subscribe: Apple Podcasts | More