How to Manage Your Network w/ John Corcoran – ABR047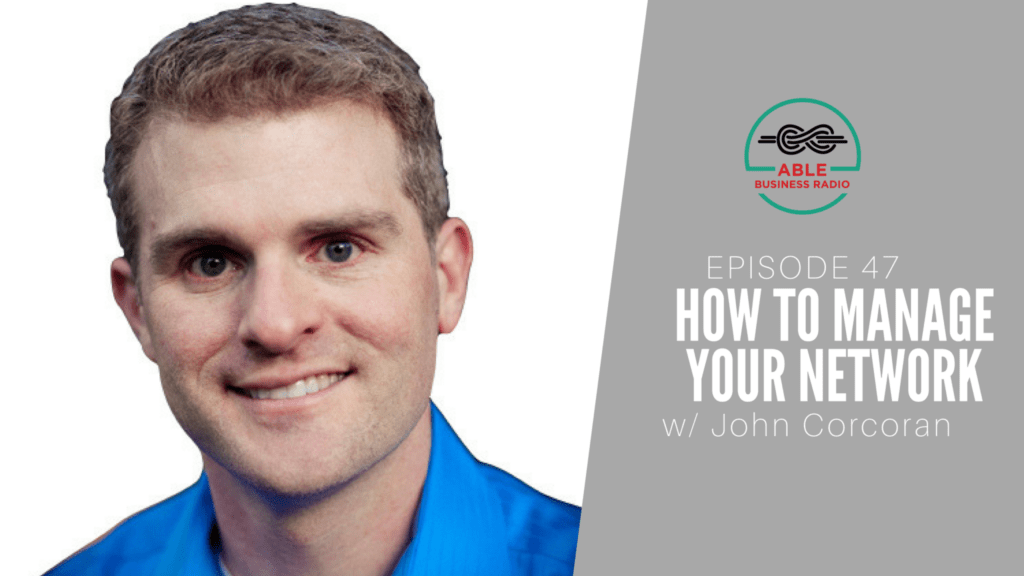 John Corcoran is an expert at strategically managing the relationships that make a difference in your business.
He believes sharing:
your connections
free, helpful content (podcasts, blog posts, videos)
are the two best way to grow a network of people who want to support you and your venture.
Service-based entrepreneurs listen up, this might be the best marketing advice you've heard all year!
Podcast: Play in new window | Download (Duration: 39:29 — 36.4MB) | Embed
Subscribe: Apple Podcasts | More
This podcast will show you how to start helping others in a way that will also drive your own success.
In this episode we cover:
How to do an 80/20 analysis of your network.
Why tracking your lead sources is vital for effective networking. (Hint: Ask all prospects, "How did you hear about me?")
How to use interviews as a way to connect with high-level mentors, partners and clients.
How to get Rob Lowe to play you on TV.
Quotables:
"It's good to be helpful. You never know what might come of it."
"If you can't get $600 out of your CRM [in a year], you are just not using it."
Links and resources mention:
Connect with Zack and John:
Episode Bonus
Subscribe to the podcast on iTunes, Stitcher, Overcast, PocketCast or your favorite podcast player. It's easy, you'll get new episodes automatically, and it also helps the show gain exposure.
The shownotes can be found at zacharysexton.com/47
Podcast: Play in new window | Download (Duration: 39:29 — 36.4MB) | Embed
Subscribe: Apple Podcasts | More