LinkedIn Riches w/ John Nemo – ABR037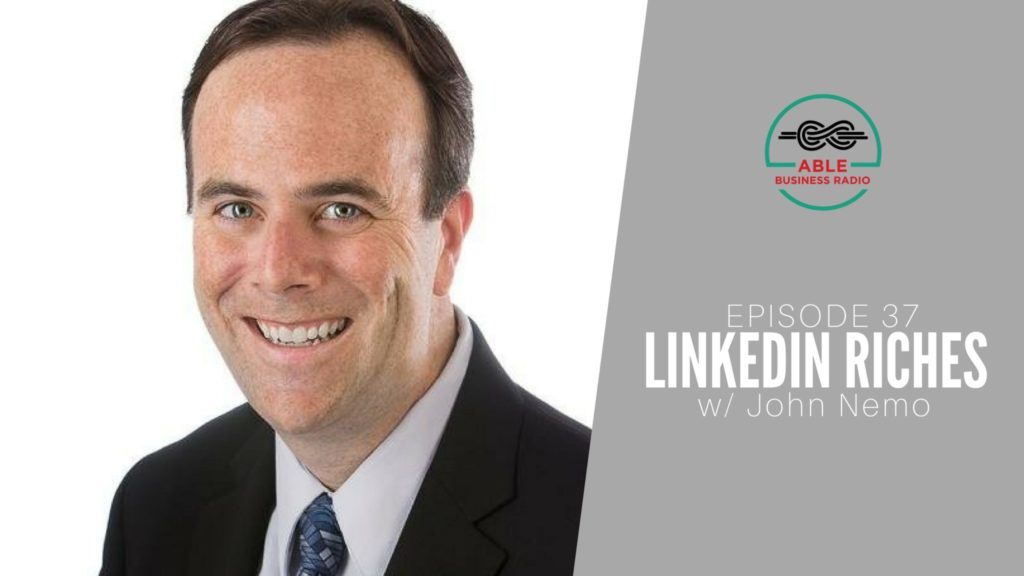 If you're like me, you probably set up a LinkedIn account at some point during your career, then promptly forgot about it.
That's about to change.
My guest John Nemo will have you looking at the professional networking site with a fresh set of eyes. Eyes with dollar signs in them.
Coaches, consultants, small business owners and sales professionals listen up, what you learn in this episode has the potential to earn you thousands in increased sales.
Enjoy!
Podcast: Play in new window | Download (Duration: 57:38 — 55.5MB) | Embed
Subscribe: Apple Podcasts | More
In this episode we cover:
How to set up a LinkedIn profile that gets your target customers interested in your products and services.
How to generate nonstop clients and revenue with LinkedIn messenger.

Step 1: Set up a client facing profile.
Step 2: Use LinkedIn search to find your ideal leads.
Step 3: Engage and sell to prospects via 1-on-1 conversations in LinkedIn messenger.

What parts of LinkedIn can be ignored.
Quotables:
"Talk to someone about themselves and they'll listen for hours." – Dale Carnegie
"The riches are in the niches."
"You got a problem, I'll solve it. Now check out my moves while my DJ revolves it" – Vanilla Ice
"LinkedIn is the world's biggest search engine for sales leads." – John Nemo
"Your clients and customers don't care about you. They care about themselves! Morning, noon and after supper. If you can solve their problems, they'll pay attention." – John Nemo
"A confused prospect never buys."
"Get people off the rented land (LinkedIn, Facebook, Twitter) and bring them to your house (website, email list)."
Links and resources mention:
Connect with John and Zack:
Subscribe to the podcast on iTunes, Stitcher, Overcast, PocketCast or your favorite podcast player. It's easy, you'll get new episodes automatically, and it also helps the show gain exposure.
The shownotes can be found at zacharysexton.com/37
Podcast: Play in new window | Download (Duration: 57:38 — 55.5MB) | Embed
Subscribe: Apple Podcasts | More